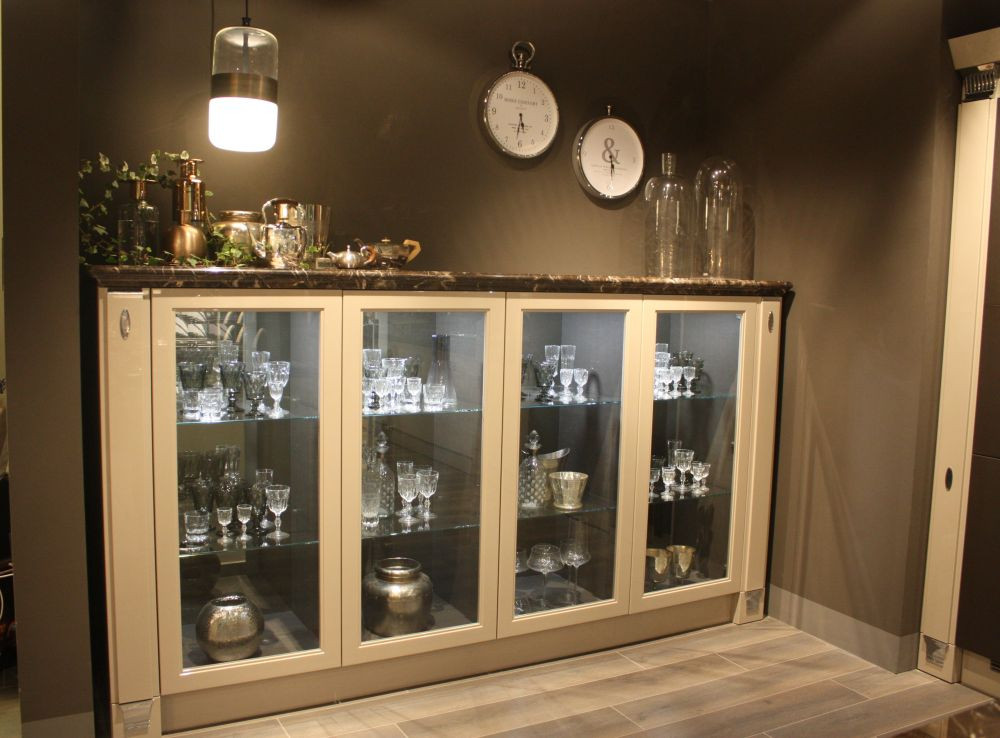 Glass kitchen cabinets are still available, despite the fact that glass furniture has fallen out of favour. This is due to the fact that glass is always popular and valued for its distinctive properties.
Cabinets with glass fronts or shelves are popular in the kitchen because of their transparency and the way they frame items elegantly, putting them on display without completely exposing them. There are numerous varieties of glass to pick from if you don't want your décor to be transparent.
Glass Kitchen Cabinets: Pros and Cons
Whether you're not sure whether glass kitchen cabinets are worth your money, have a look at the benefits and downsides of these goods to see if they're right for you:
Pro:
You have a variety of kitchen cabinet options, such as frosted glass cabinets, seeded cabinets, and more. As a result, finding a cabinet that suits your current kitchen décor will be much easier.
Because glass is transparent, it's easy to locate the plate you're looking for without having to rummage through the cabinet and easy to clean the glass.
Kitchen cabinets with glass fronts, like mirrors, reflect and disperse light around the room, giving the impression of an open, airy space.
Con:
Not sorting them into heaps by type and colour will make your kitchen appear unorganised, and it will be evident to anyone who walks in.
Kitchen cabinet doors with glass fronts are prone to shattering and fracturing, thus they may demand extra caution when opening and shutting.
Because of the stain-resistant and waterproof characteristics of the material, glass kitchen cabinets are also easier to clean the glass cabinet of kitchen.
Glass Types for Kitchen Cabinets
Let's take a look at the six primary types of glass that are typically used in the construction of kitchen cabinets.
Frosted
You can use frosted glass to partially conceal your information within your kitchen cabinet and add puck lights to the cabinets to make the content displayed through the frosted glass more visible. The advantage of using frosted glass is that it hides fingerprints and spills better.
Frosted glass gives you a distorted perspective through which you may see colours and shapes. Frosted glass gets its translucent appearance by sandblasting or grit, resulting in a sleek and  clean the glass  look that contrasts nicely with the slick stainless-steel finish found on many modern kitchen cabinets.
Seeded
Seeded glass is similar to textured glass, but it has an antique aspect that dates back to antiquity. It contains a hint of little, moderate, or huge bubbles, earning it the nickname seeded.
It's a natural fit for a modern kitchen, and depending on the seeded glass density and bubble size, it also enables you view the projected material's shapes and colors. You may also add puck lights to your kitchen cabinet to improve its design and attractiveness.
Transparent
With a single flat-paneled toughened glass construction designed to prevent against easy shattering or a decorative pattern to enhance the appearance of your kitchen cabinet, transparent glass should be simple and attractive.
Transparent glass is widely used since it is affordable and available in a wide range of colours. Because of its emphasis on content display, this type of glass is artistic and elegant, and it complements a wide range of kitchen styles.
Textured
Because textured glass was commonly used in the creation of historic kitchen cabinet glass, it has an antique aspect that would suit a variety of kitchen styles. Glass with a textured coating on kitchen cabinets can be customised to complement any decorative design style. They, unlike other types of glass, give the impression of more space and openness in a kitchen.
Leaded
Leaded glass is a lovely accent to any modern kitchen appliances. Because it is made up of multiple little pieces of linked glasses that give it its appealing appearance, it is also known as crystal glass. Leaded glass has a particular appearance due to the high metal content and the colour, which gives the glass a higher artistic quality.
The main benefit of leaded glass is that it can be tailored to your exact needs in terms of direct placement, colour, and art glass. To improve the aesthetic of your entire kitchen styles, add some backlight to your leaded glass.
Sumiglass
Sumiglass has a decorative appearance because it is made up of numerous layers of crushed materials, each layer including at least two panes. Because of its high-quality glass equipment, Sumiglass is another wonderful alternative for your kitchen cabinets.
Sumiglass is a patented, cutting-edge technology that ensures a long-lasting link between each mounted glass pane. Sumiglass is available in a variety of colours and may be personalised to your preferences, resulting in a stylish kitchen cabinet interior.
Nowadays, there are many different types of kitchen glass cabinets to choose from
kitchen cabinets with transparent glass
Because you can't hide anything in a transparent glass cabinet, you should be comfortable with it before moving on to the next step. Of fact, while this may appear to some as an inconvenience, it may appear to others as a significant benefit.
Related: Glass Kitchen Cabinet Doors And The Styles That They Work Well With
Upper kitchen cabinets with transparent glass doors allow you to exhibit items while keeping them safe and secure within, away from dust and other contaminants. Furthermore, the basic nature of this sort of glass complements minimalist décor nicely, and it's an excellent choice for small kitchens and also make the unique style of kitchen.
Kitchen cabinets with frosted glass
If you enjoy the concept of having glass cabinets in your kitchen but are concerned about the transparency and the fact that the contents of the cabinets will be on show for all to see, there is a solution that may be ideal.
Frosted glass is sleek and sophisticated, and it complements modern kitchens beautifully. While frosted glass does a good job of hiding the filth behind it, it isn't totally opaque, so you might be able to see the silhouettes and colours behind it.
Kitchen cabinets with textured glass
There are various types of textured glass, some of which are more popular than others. This is a tricky style because some patterns are prone to becoming a craze and rapidly going out of style, leaving you with a dated kitchen design. You can avoid this by sticking to some of the more straightforward and traditional patterns. From a visual and tactile standpoint, textured glass is intriguing.
Glass with seeds
This is a unique form of glass with a distinct appearance. All of these bubbles might be small or enormous, depending on the source and kind of seeded glass. It's a look that works well in vintage and traditional settings, but can also work well in contemporary settings. It can be used in the kitchen to hide the contents of cabinets without actually hiding anything.
Kitchen cabinets with leaded glass
Leaded glass contains a lot of lead, as the name implies. The significant amount of heavy metal is responsible for the glass's distinct appearance and hue, which distinguishes it and makes it valuable for its ornamental features. Leaded glass is exquisite and has a really appealing handcrafted appearance, but it can be difficult to come by. Tinted or stained glass are two options.
What Is the Best Way to Replace Glass Cabinet Doors?
When glass inserted in kitchen cabinet, it is frequently accessible through a detachable panel. This makes it ideal for replacing cracked or broken glass as well as interior cleaning.
You'll need the following items:
Screwdriver
Gloves for protection (to avoid cuts)
Knife for applying putty
Chisel
Silicone that is clear
The First Step
Open the cabinets and inspect the glass panels on the left and right sides. There should be a screw protruding from the hole. You'll need a screwdriver to remove these screws, and all you have to do is bring them parallel to the frame.
The Second Step
Unscrew the hinges if there are no permanent connection between the cabinet frame and the panel. If the glass is inserted in kitchen door, all that's needed is to unscrew the screws that hold the hinges to the cabinet and the glass-encased door. If there are no sticks or screws holding the panels in place, remove the hinges.
The third step
To remove the panel from the cabinet frame, gently tap it from the inside. It should be put on a worktable face down.
The Fourth step
Put the putty knife's tip beneath the moulding that surrounds the glass in kitchen . To remove the brads, slowly pry it upward. Insert the knife between the panel's sides and the moulding, and pry it out carefully. When the moulding is loose enough, pull it out of the frame with the knife. Complete all four sides.
The Fifth Step
Remove any debris, chips, or dirt with a chisel and a scraper. It's as simple as dropping the new glass in.
The Sixth Step
Cut the tip off a tube of transparent silicone with a utility knife. Make a 3/8-inch diameter hole by cutting it diagonally. At the spot where the wood meets the glass, keep the tube's diagonal end in place. Apply a silicone bead that runs all the way around the silicone tube, making sure it touches the side of the frame and the glass.
The Seventh step
Apply pressure to the glass using something substantial (such as a stack of heavy books). Allow 24 hours for the silicone to dry. Make sure the sticks/screws are perpendicular to the frame before reinstalling the glass panel on the cabinet.
FAQ
Is it Expensive to Install Glass Kitchen Cabinets?
Glass-front kitchen cabinets are more expensive, and as the durability and quality increase, the price continues to grow. If you're remodelling your kitchen and have always wanted glass cabinets, the one-time expenditure could be well worth it.
Even if you go with more expensive options like stained, frosted, tinted, or painted glass, you'll only have to pay once and enjoy your kitchen's beauty for a long time.
What Kind of Glass Should You Use for Kitchen Cabinets?
It all relies on the characteristics you want in your kitchen cabinet. For example, frosted glass is a good choice for individuals with dirty cabinet interiors because the distorted view hides clutter, whereas transparent glass cabinet  is a good choice for those who want a clear view of what's within the cabinet so they can easily identify the plate they need.
Do Glazed Kitchen Cabinets Have a Future?
In traditional and rural farmhouse kitchen designs, as well as other rustic varieties, such as French country kitchens, glazed kitchen cabinets never go out of style. They do not, however, work in all circumstances. Many country kitchens feature cabinets with distressed and glazed surfaces.Even while glazed and distressed cabinets have been increasingly trendy in recent years, they are not appropriate for a modern setting.
Glass Front Cabinet Doors: How Much Do They Cost?
It all relies on the sort of glass we're working with, as well as the overall building quality (like what type of wood is used, the quality of the hardware, etc.).
The typical cost of such a door is roughly $225 per door, however it can be much higher based on the criteria described above.