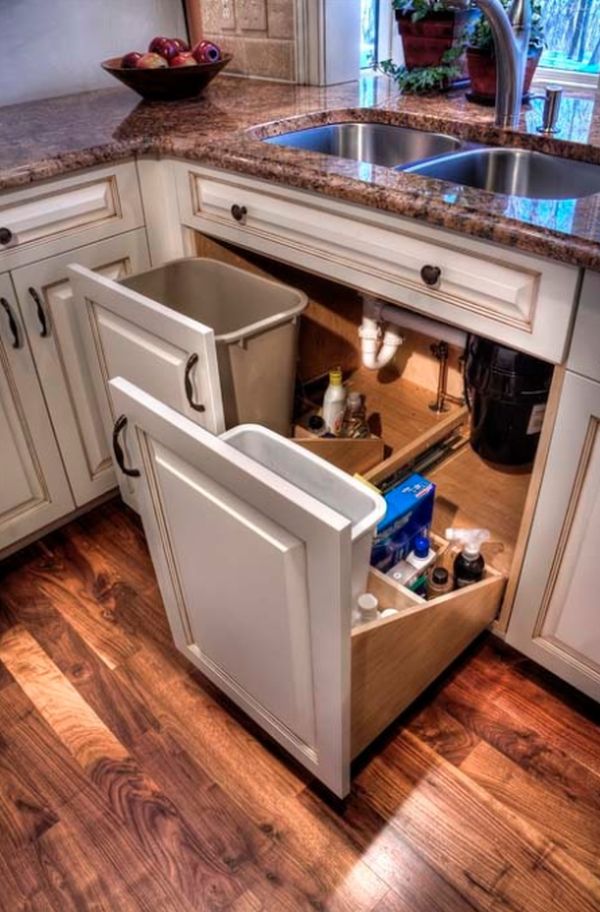 Because your kitchen is one of the most often used rooms in your house, you should make an effort to make it as functional as possible.
A pull-out trash can cabinet can really help you spruce up your kitchen. These trash bin cabinets keep your kitchen odor-free while also concealing the trash can from observers and visitors.
It can be a little challenging at first, as with any job or investment, so we're here to help with some amazing pull-out trash can cabinet ideas and items. Let's get started with some quick overviews of pull-out trash bins, because you're not alone in attempting to make your home more convenient.
How Can a Pull-Out Trash Cabinet Make Your Kitchen More Functional?
While all of these bins and cabinets may appear tempting, you may be unsure of what they can provide your kitchen. The solution is actually fairly simple, but it may require a little explanation.
The obvious benefit of having your rubbish hidden is the first. You don't have to face the unpleasant sight of waste stacking up in a corner no matter who walks into your kitchen, whether visitors or even residents. Keeping the waste out of sight can definitely help your kitchen look better.
The rubbish bin is likewise kept out of reach. Whether you have pets or children, a tipped garbage can is not only an unwelcome sight, but it is also an unwelcome sight. Your pets won't be able to get to the rubbish with a pull-out trash can cabinet, and your youngsters won't be able to meddle with it either. They're not interested in toppling the can by the time they're utilising the pull-out cabinet. You won't accidently topple or trip over the can when it's hidden away in a cabinet, either.
Also, isn't the prospect of not smelling like garbage a pleasant one? It's a well-known fact that the worse the odour, the more rubbish there is. It's not fun to cook only to smell the residue from the previous day. Keeping it hidden away in a cabinet avoids the scent from spreading, though it does necessitate some regular cabinet cleaning.
5 Options for Pull-Out Trash Can Cabinets
Without further ado, let's get started on the pull-out trash can cabinets we have in store for our devoted readers. These are all excellent choices for any kitchen makeover project you may have in mind.
Stainless Steel Pullout Trash Can – Best Under-the-Sink Trash Bin Cabinet
The first place most people think of hiding their garbage cans is under the sink. There's plenty of room down there, you've already got a lot of stuff stowed away, and the sink is probably the most-used place in your kitchen.
It's most likely above the sink when you're doing the dishes, cleaning, or washing food. The trash containers will be directly under you when the garbage accumulates. This area can also accommodate multiple bins, making it ideal for large households with a lot of rubbish.
These pull-out bins provide plenty of shuffling space under the sink because to their design. You may put them on the side or in the centre and still have plenty of space for other items.
Stainless Steel Pull Out Trash Can – Best Minimalist Trash Bin Cabinet
The public currently appreciates minimalist designs. It's sometimes true that the less there is, the better. This pull-out garbage can cabinet in stainless steel is no exception.
It's easy to put together, it's pleasing to the eye, and it's simple to remove. This cabinet appliance blends in beautifully with the environment when you're not attempting to draw attention to your pull-out garbage bins. It blends in with the kitchen as if it had always been there, and its durable construction will serve you well for many years.
Plastic Pull Out Trash Can – Best Single Trash Bin Cabinet
You can't expect to have more than one garbage container in a small kitchen. It's simply not practical to have two when you don't make nearly as big of a mess. This small plastic garbage can with pull-out cabinet will fit in even the tiniest of kitchens with limited shuffle space.
Depending on the architecture of your kitchen, it can be put in both wide and narrow cabinets. There are no bulk pieces, just a metal frame in which your bin waits to be filled.
Pull Out Trash Can – Best Wooden Trash Bin Cabinet
If your kitchen is built with a wooden aesthetic in mind, this pull-out trash cabinet will be a welcome addition. The sturdy construction will keep the bins from swaying too much, preventing spills. The trash can is placed in a deep dip that keeps it in place.
The cabinet's interior will blend in with the rest of the kitchen if the bins are removed temporarily (during a huge mess, a party or function, or to air it out). While nothing else can be put in the cabinet, it's a terrific investment for a kitchen with a lot of traffic and frequent visitors.
7 Gallon Pull Out Trash Can – Best Hanging Trash Bin Cabinet
The attractiveness of hanging trash cans is distinct. They simply hang quietly from the pull-out cabinet when you pull them out. It perfectly balances simplicity and style.
It also makes trash collection easier. Simply remove the bin for cleaning and alterations, then replace it when you're finished. Now that the bins are free-floating in the cabinet, there are even fewer chances of scratches and snags. The pull-out garbage containers will effortlessly slide out and back into place. This style is particularly well-suited to modern kitchens.
What to Keep in Mind When Purchasing a Trash Bin Cabinet
There are concerns when buying trash bins, just as there are considerations when buying any kitchen storage option, and there are different considerations for the cabinet you hide the garbage bins inside of.
Which cabinet do you intend to use?
You must first determine which cabinet you will empty. There are two factors to consider here: the amount of bins you use and the most practical location in your kitchen.
If you're going to use two bins, you'll need more room. Consider models that fit under the sink or double-bin types that fit side-by-side in tighter cabinets. If you're trying to fit two bins in one cabinet, you can utilise smaller bins. If you're just going to use one, invest in a larger bin so you don't have to change the bag as frequently.
The next thing to think about is where the greatest spot is in your kitchen. Because this is where the most traffic is, some people position the trash cans right alongside or underneath the sink. Others try to hide their trash cans in the corner or at the end of their counters, where clean-up residue can easily fall into them. Wherever you think the garbage cans won't get in the way of your job and will be easiest to get to.
How big are your pull-out bins going to be?
What are your preferred bin sizes? You can put more than one bin in smaller bins, but you must consider how often you will be replacing their bags. You could have a recycle bin as well as a garbage bin if you have two bins.
When dealing with a single large bin, you'll need a taller or wider cabinet to accommodate it. You should also think about how quickly the bin will fill up. If there isn't enough garbage development, the bag will have to sit in the trash for longer, resulting in a strong, smelly odour.
Choose your bins based on the amount of waste your home generates, the amount of space you have available, and the functions you want them to do.
What is the Minimum Cabinet Size for a Pull-Out Trash Can?
Don't stress about it; getting the proper cabinet size for your new pull-out garbage can cabinet is simple.
The minimum cabinet opening, often known as the MCO by certain manufacturers, is the first consideration. This is the minimal amount of space you should leave on both sides of the pull-out garbage can cabinet to prevent the bins from snagging or scratching the cabinet. The pull-out cabinet will slide more smoothly if this slot is left empty.
You can be creative with the actual cabinet size because many pull-out garbage bins come in a variety of shapes and sizes. For a cabinet, the normal width is 18 inches. This leaves enough room on both sides of the pull-out trash bin, as well as an allocation for 35-quart or 50-quart bins.
15 inches, 21 inches, and 24 inches in width are other cabinet sizes that you can use. Depending on what works best for you and your kitchen, you can have larger, slimmer, or wider bins. You can even squeeze a pull-out trash can in a 12" cabinet if you know you only have room for a single compact bin.
Cabinets are typically 34.5" tall, with a 1.5" cut off or put on for the odd anomaly. Cabinets are typically 24" deep, with the odd exception here and there.
Can't make up your mind? Here are some great ideas for pull-out trash cans.
Wastebaskets for Woodwork
Cabinet with Multiple Drawers
Cabinet with Multiple Functions
This design has pull-out trash bins just underneath your cutting board, which is another wonderful way to get more out of your garbage bin cabinets. Now you can sweep all of your skins and cores into the trash bin with minimal clutter and movement, resulting in optimum convenience. Because the cutting board and trash bin cabinet are separate, you can easily pull out the trash bins for other rubbish.
Trash Bins with Two Cabinets
Why choose between two levels of convenience when you can have both? This is a particularly good concept for folks who want garbage cans under their sinks. Placing one trash bin behind each door allows you to have twice the accessibility and storage for all of the junk that comes your way. It's ideal for large families who throw more than they can handle.
Pull-Out Trash Bins that Float
Cabinet and Storage for Trash Bins Under the Sink
The Cuisine's Cornerstone
Keep your pull-out trash can cupboard in the corner of your kitchen to avoid it being in the way. It's still reachable; it's just not the first cabinet you'll want to open. The trash bins are hidden behind a corner pull-out cupboard in the kitchen's dead centre. So, no matter where your junk comes from, getting to the trash cans isn't difficult.
Cabinet with Tall-Standing Pull-Out Trash Can
This is an excellent idea for folks who have trash cans that stand taller. You get the ideal storage for your garbage can, as well as additional storage for other household items you want to keep hidden. More garbage capacity in each bin and bag means taller bins. If your property gets a lot of traffic, a larger bin might be the best option.
FAQ
What Trash Can Size Should I Use in Pull-Out Cabinets?
A 35-quart bin and a 50-quart bin are the two most common sizes that can be stored in a cabinet. A 35-quart bin will fit comfortably into a 15-inch cabinet, while two side-by-side bins will fit into 18- to 21-inch cabinets. Only a full-height cabinet will fit a 50-quart bin.
What Are the Dimensions of a Pull-Out Trash Can?
You'll need to take measurements from the bottom of your cabinet frame to the bottom of the pull-out hardware, then from there to the back of the cabinet door. Then you take your cabinet's width into account. For optimal space management and a central unit, base your new pull-out garbage can on these measurements.
What is the capacity of a 20-quart trash can?
A quart is equal to 0.25 gallon. The math is simple: 20 quarts equals 5 gallons, making a 20-quart bin a smaller trash can.
What Is the Best Way to Install an Under-the-Counter Trash Can?
The simple explanation is to collect all of the components and assemble them in the correct order. For starters, you'll require an empty cabinet, a door mounting kit, and a pull-out trash can cabinet kit with the appropriate-sized garbage bins. Check everything ahead of time to make sure it's the appropriate size, shape, and accessories.
The Final Word
A pull-out garbage cabinet might be exactly what you've been looking for. Keeping your kitchen clean and odor-free will be simple with a hidden garbage bin. The hanging pull-out trash bin cabinet, we believe, is the ideal alternative because it fits two trash bins, minimises scratches, and is easy to manoeuvre.
Do you agree with what we've said? Leave your thoughts in the comments section below, and be sure to share this kitchen idea with anyone else who still has their garbage bins outdoors in their kitchen. Also, for more home remodelling ideas, check out our kitchen organisation guide!